It's at the heart of everything we do
Immersion Learning is the disciplined and intentional practice of looking externally for learning, insight and inspiration to better sense and make sense of current and future opportunities.
Leaders have limitless opportunities to learn from others' experience and expertise. From trusted advisors internally and externally, to forums, conferences, industry events, networks and social media – a vast amount of data, information, and knowledge is available. 
And seeking this external insight and inspiration is critical as we try to sense and make sense of the world, particularly in times of unprecedented change and uncertainty.

Immersion Learning accelerates the development of this essential "outside-looking-in" leadership capability in a distinct and impactful way. It holds leaders accountable for their own learning; places them in the right mindset to observe, be curious, and suspend judgement; and embeds reflection and accountability.  
These mindsets and practices unlock the power of carefully constructed Immersion experiences and are guaranteed to shift thinking at speed.
At the Immersion Lab, we are experts in Immersion Learning: the trifecta of immersion experiences, mindsets, and practices that enable leaders to transform the way they learn and accelerate their rate of learning.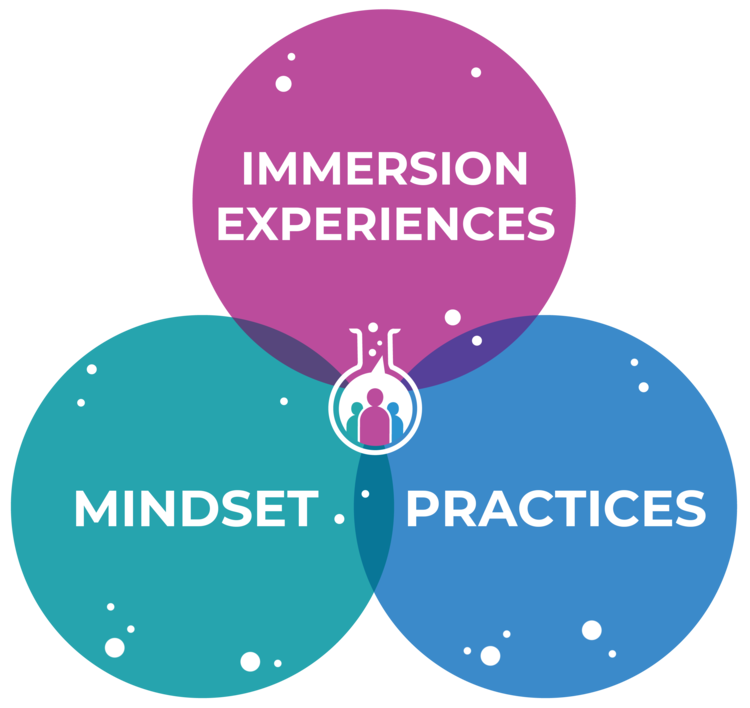 Immersion Learning is rooted in tried-and-tested Action Learning principles where small, diverse groups work on real issues that are complex and important, in a reflective and experiential process. With the actual Immersion experiences as the central unlock of engagement in the process, Immersion Learning will:
1. Transform the way you learn
2. Accelerate the speed at which you learn
3. Inspire and prepare you to try new approaches as you tackle complex issues
HOW DO YOU RATE AS AN IMMERSION LEARNER?
For each statement, rate yourself as Okay (1 point), Pretty Good (2 points), or Super Power (3 points).
If you ranked 15-18, go teach other people!
If you ranked below 15, what ideas do you have to practice and strengthen your learning mindset? 
We're always available and excited to talk to teams who want to get involved with Immersion Learning.